November, 2020
63RD ANNUAL DAY AND PRIZE GIVING CEREMONY
21st Nov,2020
The 63rd Annual day presentation took on a new avatar-the pandemic did not deter the Bluebellian spirit from continuing with the rich legacy of its spectacular annual event. The virtual show on the theme of the unbeatable human spirit replete with song, dance and drama was a challenge, but the outcome was appreciated by the Chief guest Dr. Pratibha Jolly, managing board members , guests, parents and children.Dr. Jolly inspired the young minds to adapt to the new normal and reinvent themselves by thinking on innovative lines.
October, 2020
COMPETENCY BASED LEARNING & ASSESSMENT,
EXPERIMENTAL PEDAGOGY
17th Oct,2020
On Saturday the 17th of October Centre for Curriculum, Pedagogy and Assessment(CCPA), Bluebells School International, conducted a session for Educators on "Competency Based Learning & Assessment, Experimental Pedagogy". The speaker for the session was Dr. G. Balasubramanian, Eminent Educationist and Former Director Academics, CBSE.
September, 2020
TEACHERS ON THE MOVE
Ms. Shweta Gulati, our Senior Librarian, has been selected by Microsoft to be a member of the Microsoft Innovative Educator Fellow (MIE Fellow) Program 2020-2021, as a part of this exclusive group of top MIE Experts from around the globe.
Rabia Khan of class XII A has been awarded with membership of the Commonwealth Students' Welfare Group of India (CSWGI), branch of the Royal Commonwealth Society (RCS) London in India. The Organization provides opportunities including: Scholarship, Education, Young Professionals, Communications and Overseas University Education.
We wish her best of luck for all future endeavors!
REIMAGINING VOCATIONAL EDUCATION
AND SKILL BUILDING OF LEARNERS
26th Sept,2020
On Saturday the 26th of September Centre for Curriculum, Pedagogy and Assessment, Bluebells School International, conducted a session for Educators on "Reimagining Vocational Education and Skill Building of Learners".The speaker for the session was Dr. Biswajit Saha, Director Trainings and Skill Education, CBSE.
WELLNESS MANTRAS FOR 2020-Class 8
12th Sept,2020
A webinar on ''Wellness Mantras was organised on 12 September 2020 for parents of class VIII. Prof Nilanjana Singh, an acclaimed author and nutrition consultant, rendered a talk on the topic and shared with the parents, the much-needed 'wellness mantras' in the times of a pandemic. With an emphasis on mindful eating, Prof. Nilanjana, empowered the parents with tips on making healthy lifestyle choices and shared the mantras to incorporate these modifications effortlessly. Her talk also reiterated to be grateful for everyday things generously for wellness. Parents had an interactive session while they actively participated and cleared doubts regarding myths and facts related to nutrition, exercise, and dietary concerns.
Thống kê xổ số Wing LungThe parents appreciated the efforts of team Bluebells for organizing such an enlightening session .
A FUSION OF TRADITIONS BLENDED
WITH MODERNITY @BBS
5th Sept,2020
The pandemic did not in any way dampen the spirits of the Bluebells Fraternity as teachers day was celebrated with dollops of good humour and chutzpah on the 5th of Sept, 2020.Teachers day fervour took place on an Online platform Teams- in three parts-
Primary Assembly
Self composed poems, harmonious melodies , With love to you-dance performances by the young ones enthralled the audience and their spirited energies mesmerised all.
Middle and Senior School Assembly
Thống kê xổ số Wing LungThe student council of the school took charge of the second part of the Teachers day program. Remembering Ma'am Soni, Ma'am Suman's empowering address, shloka recital, Poetical renditions by the students of the senior school, sensational singing by our ex-Bluebellians , classical and contemporary dances where the teachers and students performed together brought smiles and added vibrancy to the sparkling Saturday morning
Teacher's Program
The show must go on and instead of the fun and merriment in the schools AVR and Auditorium –our online Teams platform saw the entire Bluebells fraternity come together in the true spirit of camaraderie. Interesting thoughts on the Bluebells legacy, futuristic vision with soul searching, dance, drama and song kept the audience engaged.Ma'am Suman, our pragmatic Director beautifully shared the mantra of an educator's journey keep learning and growing!
July, 2020
Parents Orientation-Class XII
25th July,2020
On Saturday the 25th of July Dr.Sameer Malhotra, Head of the Department of Psychiatry, Max Hospitals, conducted a session for students and parents on 'Covid Uncertainty - Managing Anxiety". The webinar brought across a very clear message that no one was alone, the situation for everyone was the same. What was important for all was to be finding solutions rather than mulling on problems, listenting to each other, being grateful to others he said was the best therapy for anxiety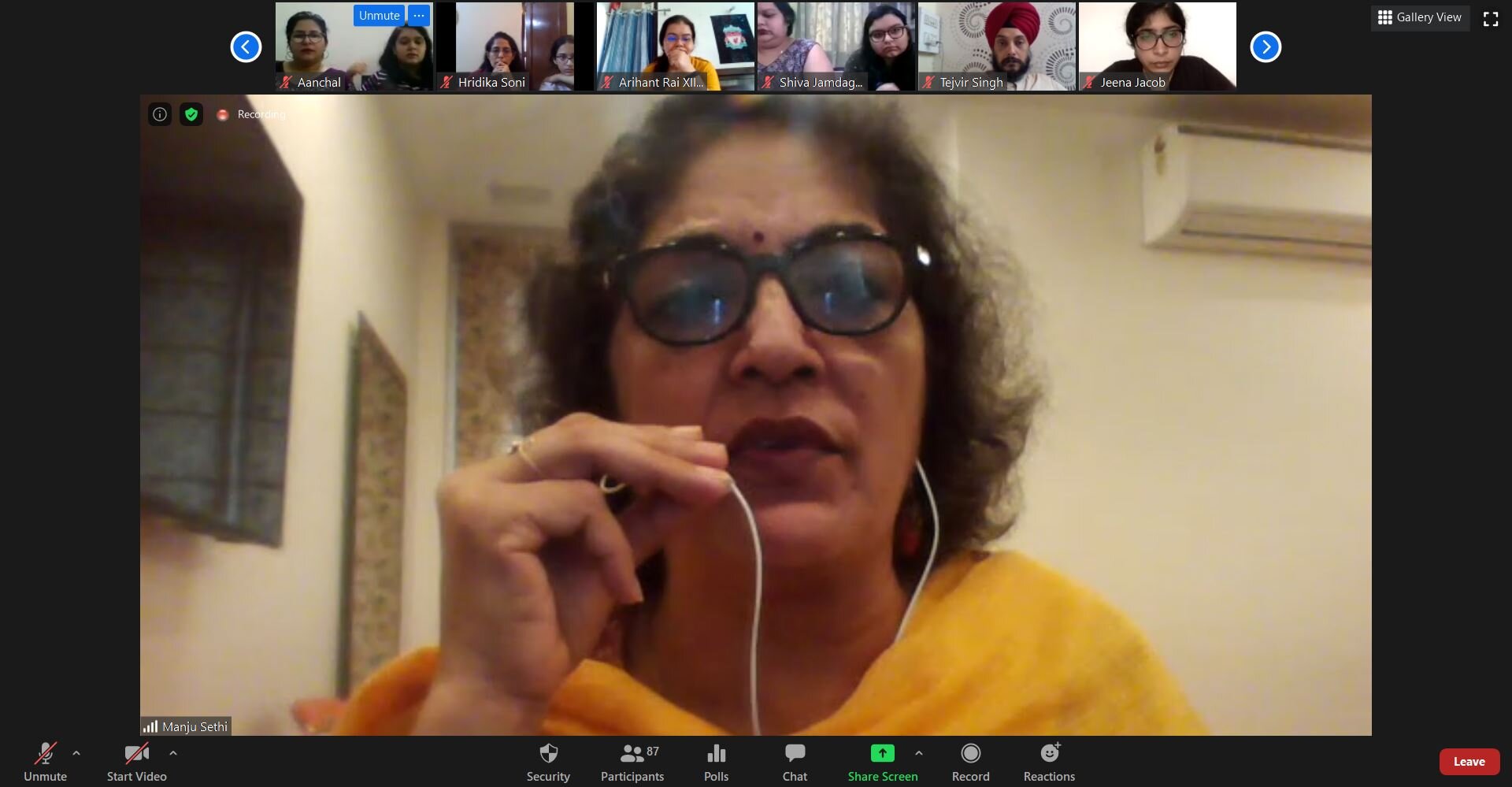 Parents Orientation-Class IX-X
18th July,2020
Bluebells School International organized an Orientation programme for the parents of classes 9 and 10 on a topic relevant in the present scenario-Family support during the pandemic. the speakers Dr Pooja Shivam Jaitley and Dr Kanika Ahuja both enigmatic speakers gave out doable tips to the parents and educators on how every member of the family could play their roles through love, patient listening, creativity , innovation , laughter and family time. their chatty and chirpy conversations with the parents reiterated that the crisis wont last but lessons learnt during this time and memories of togetherness will last forever.The interactive session that followed reassured all that giving up was simply not an option when one had family to support.indeed a powerful and positive session!
Bluebells celebrates Nelson Mandela's
Birth Anniversary
17th July,2020
Nelson Mandela, whose successful struggle against South Africa's apartheid system of racial segregation and discrimination made him a global symbol for the cause of human rights . We celebrate his life and work in school every 18th July. Students and staff will surely miss the celebration this year due to pandemic, however the show must go on....
Thống kê xổ số Wing LungIn the same spirit, Social Science Faculty is interacting with school students to look back at Madiba's life with appreciation and a keen remembrance of what a true, noble leader looks like.
Congratulations to Aariv Saini of class III-B ! For winning the Certificate Of Honor in the worldwide Picasso Art contest -FIGHT AGAINST CORONA VIRUS..where more than 1700 artists participated from 40 countries.
His drawing will be sent to WHO,UNESCO and other esteemed organisations.
We are extremely proud of you!
May, 2020
Unlocking #LockerRoom @ Bluebells
16th May, 2020
In wake of the recent Bois Locker Room, incident, Dr Y P Balhara, Additional Professor of Psychiatry, NDDTC and Department of Psychiatry, AIIMS, New Delhi, had an interactive online session with students and parents of class XI on the safe and healthy use of the internet.
He said that internet concerns were Lifestyle Concerns. This approach gave the increasing abusive usage of internet a more manageable issue, that adults with timely intervention and proper communication could and should addressng children.
Bluebells shines @ TRIFECTA
11th-14th May, 2020
APEEJAY SCHOOL, SAKET organized TriFecta , fusion of three online Events, from May 11 to May 14, 2020. Out of 35 schools participated
Hitakshi Bedi of XII B brought laurels to our school by securing Ist

Thống kê xổ số Wing Lung Position in Maths Symposium

Shiva Jamdagni of XII A stood first in Panel discussion on the topic

Public Healthcare Infrastructure in India

Shriya Sreekrishna of class 8 secured First Position in Sanskrit Shloka

Recitation Competition.

Siya Jangir of XI C received Appreciation prize for her self composed

poem on Lock down and Home bound .

Shashwat Tripathy of X A captured third position in Mathematics

Quiz.

Sanvee Chaudhary of IV A Thống kê xổ số Wing Lungsecured third position in Rangometry.
Virtual Nursery Orientation
2nd May, 2020
The overview of the Preschool curriculum and the hands on activities were shared with the parents through the videos and a brief synopsis by the Pre primary Supervisor , Mrs Kiran Jamwal and the Preschool teachers.
The parents were introduced to a new application Snap homework which will be used for sending activities and links.
April, 2020
Online Session on Parenting in COVID'19
Classes 6-8
25th April, 2020
Social distancing to slow the spread of COVID-19 can be especially hard for adolescents, who may feel cut off from their friends – their world. While younger children may be thrilled at the prospect of having parental attention 24/7, adolescents are likely to feel differently. In this regard, school organised a special online session for class V-VIII parents on Parenting in COVID-19 on Saturday, 25th April, 2020 at 11:00 am-12:00 o'clock. Dr Kanika K Ahuja (Associate Professor, Department of Psychology, Lady Shri Ram College for Women, University of Delhi. addressed the parents. This initiative was to bring parents a set of handy tips to help manage this new (temporary) normal
Online Session on Parenting in COVID'19 -Class 4 & 5
25th April, 2020
The COVID-19 pandemic has upended family life around the world. School closures, working remote, physical distancing — it's a lot to navigate for anyone, but especially for parents. In this regard, school organised a special online session for class IV and V parents on Parenting in COVID19 on 25.04.2020 at 9:30 am-10:30 am. Dr. Poojashivam Jaitely (Clinical Psychologist) addressed the parents. Former Consultant Clinical Psychologist at Moolchand Healthcare and a practicing Clinical Psychologist. This initiative was to bring parents a set of handy tips to help manage this new (temporary) normal.
January, 2020
Valedictory Ceremony
25th January, 2020
On 25th of Jan, Bluebells School International celebrated Valedictory Ceremony to bid farewell to out-going batch of 109 students of class XII. The chief guest on this occasion was Prof. Dr. Harinder Pal Singh, Professor of Physics Dean, International Relations Director, Cluster Innovation Centre, University of Delhi.
May they be the ambassadors of Peace and Brotherhood. We wish them well for all their worthwhile future endeavors.

Happy teeth for happy smiles...
23rd January, 2020
With the aim to establish and promote the importance of good oral care habits , Dental Checkup and Awareness session was organized by Dr. Shipra Arora , Dental Periodontics, M/O Inaaya Arora , Preschool B at Bluebells School International,New Delhi . The session was initiated with dental awareness talk, educating children about common dental ailments, especially stressing on tooth decay and gum diseases and measures to prevent them. She also advised if any treatment is required .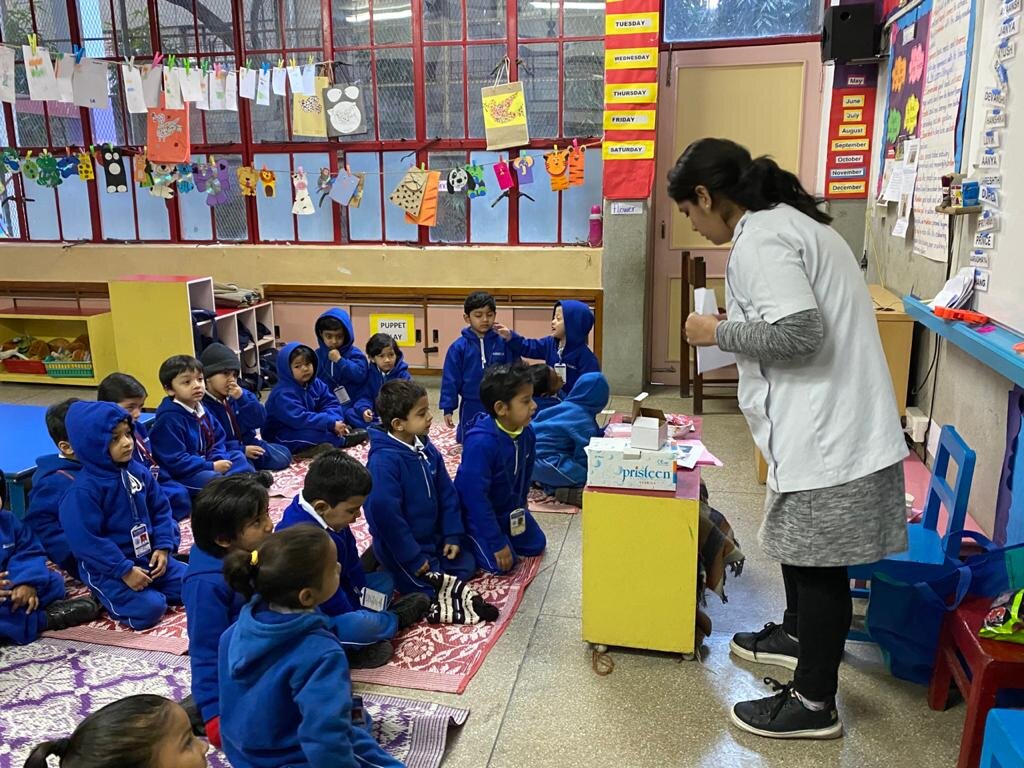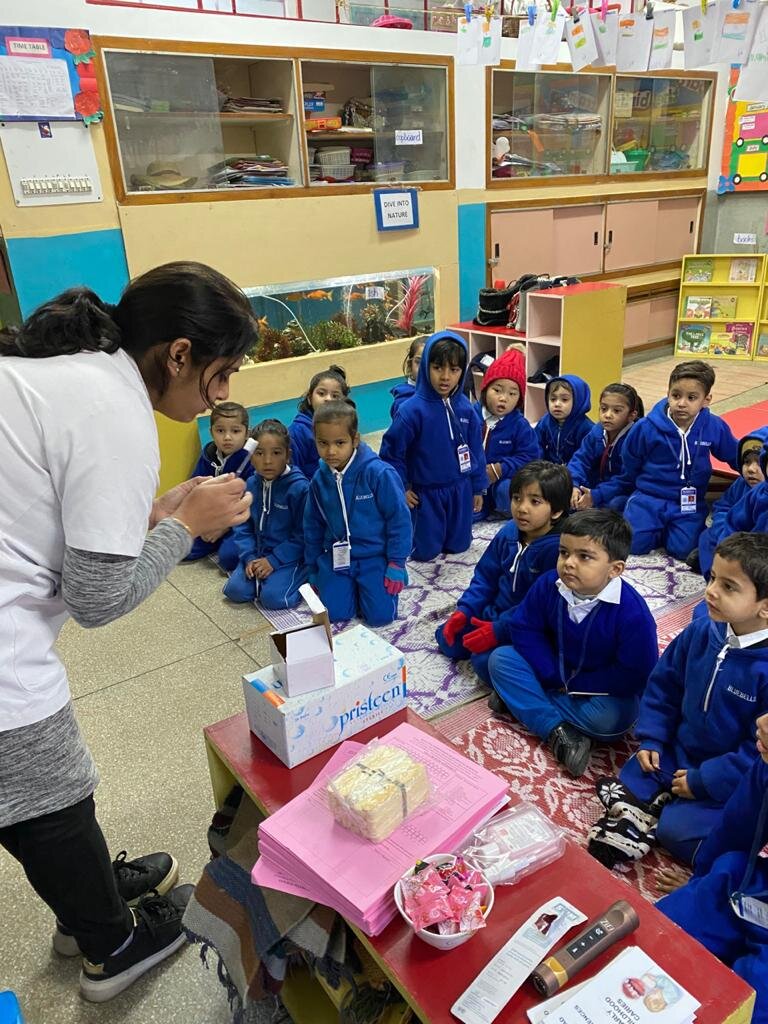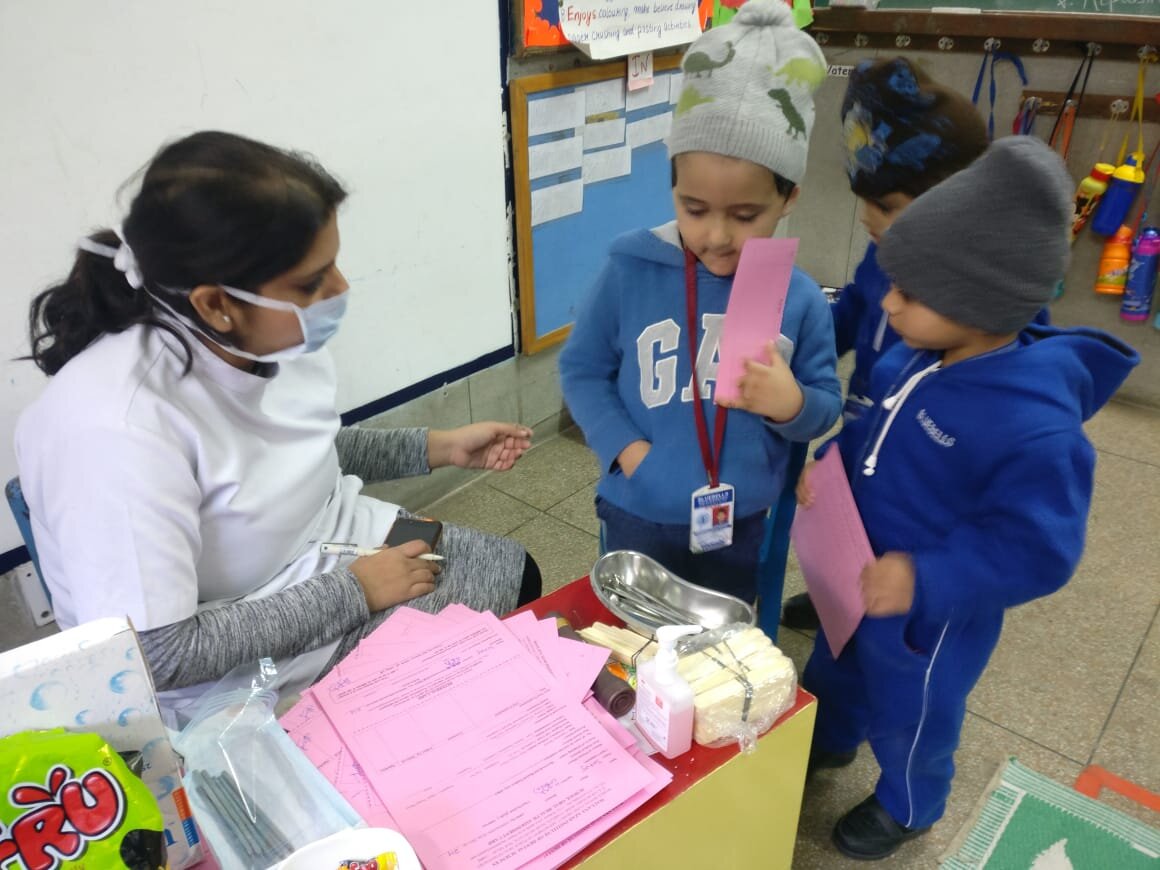 Mr. & Miss. Bluebells
22nd Jan, 2020
It was a powerful amalgamation of beauty and brains at the Mr. and Ms. Bluebells held in the school auditorium on Wednesday, the 22nd of January, 2020. 15 candidates vied for the coveted titles going through the general awareness, talent and extempore rounds confidently and gracefully exuding the Bluebellian charisma.
Thống kê xổ số Wing LungZainab Haleem of XII- C, Sanigdhaya Mahajan of XII-C bagged the titles of Ms. And Mr. Bluebells and Sia Ahuja of XII-C and Rohan Chopra of XII-C won the Ms. And Mr. Talent.The judges were completely floored by the enthralling performances of Shubhang Ghosh and Domingus, and were given special mention by the judges. It was a wonderful day for all the students of class XII who are passing out of the school this year, and it would remain a day that they would fondly remember.
Letter Writing and Stamp Collection workshop@BBS
18th December,2019
Letter Writing and Stamp Collection workshop conducted for classes IV to VI, by "Battees" and the Indian Postal Department (Department of Posts, Governemnt of India) on December 18, 2019.
Bluebells School commemorates 150 years of Gandhi….
10th-11th December,2019
The 150th birth anniversary of Gandhi provides an opportunity to reflect once again on survival of humankind using the tools of non-violence and conflict resolution. Bluebells School on this occasion, has hosted Youth Leadership Summit – Educating the mind, body and heart. Dr Dinesh Singh (Former Vice-Chancellor) inaugurated the Summit. The Summit saw a participation of 60 students from private and government schools.
Over the two days , through various sessions by Dr Meenakshi Gopinath , WISCOMP, Heritage Walks, Tree Plantation Drive, Pledge at Rajghat, Book Discussion on Being Gandhi by Ms Paro Anand, Aesi Tesi Democracy by Rahul Ram (musician) and Sanjay Rajoura(Comedian) and Justice Kurian Joseph , our future leaders, harbingers of change and agents of action, resolved conflicts and undertook constructive projects to usher in peace and prosperity for one and all.
On the first day, Mr Saurabh Bhardwaj (MLA GK, AAP Party) led the students for a Plantation Drive at L-Block (Kailash) Park. The students also showcased nukkad natak spreading awareness about pollution, water scarcity and dire need to resolve environmental threats.
BLUEBELLIANS WIN THE PRESTIGIOUS
NIAMAT RAI COMPETITION
9th December, 2019
Thống kê xổ số Wing LungXXVIII Inter School Shri R. S Niamat Rai Trophy for an investigatory project in Mathematics was held at Springdales Pusa Road on Dec9, 2019 . Bluebellians did a wonderful job and won the 1st prize along with accolades galore. The Bluebells banner continues to fly magnificently !
Bluebells shines @ CONFLUENCE 2019 -CMS, LUCKNOW
3rd-7th December, 2019

Thống kê xổ số Wing LungA team of 10 students and one teacher participated in a 4-day long Confluence from the 4th to the 7th of December,2019 organised by CMS, Lucknow.
Among 44 International and national teams, our school team won 6 prizes for Theatre, Group song, Collage making, Poster making, Overall best team junior category and Confluence Team 2019. Great learning and achievement indeed!
Chaupal @ BBS
7th December, 2019
On the 7th of December 2019, Dr Amit Sen (Director and Co-Founder of Children First) was invited to Bluebells School International for the monthly 'Chaupal' for parents. The theme for the session was SUBSTANCE ABUSE AMONGST TEENAGERS.
Thống kê xổ số Wing LungIn this context Dr Sen defined 'Substance' – as an altering chemical that changes perception.
As to why children seek drugs, the answer was what we all are well aware of- curiosity, adventure, peer pressure and then gradually moves from being cool to seeking pleasure, avoidng anxiety and at times relief from pain and finally takes the form of escapism.
Thống kê xổ số Wing LungHe said, it was important for parents to educate themselves and build a community with other parents to create awareness and support for each other.
15th-19th November, 2019
Thống kê xổ số Wing LungOur School participated in the International Geofest 2019, held at CMS Lucknow from 15th to 19th November and competed with 77 teams from across the globe. The team bagged the first prize in movie making and model making on topics of sustainability and eco friendliness.
Annual Art Exhibition
16th-17th November, 2019
Thống kê xổ số Wing LungBluebells School International organised their Annual Art Exhibition for budding artists at Arpana Caur Academy of Fine Arts and Literature on the 16th and 17th of November 2019.Padma Shri Smt. Ajeet Caur inaugurated the exhibition and was appreciative of the wide gamut of themes and mediums used in the creatively displayed exhibits.
Ms. Bandana Sen Library Award
9th November, 2019
On 9th November,2019 Ms.Shikha Gulati, Jr. Librarian Bluebells School International received an award for nurturing and promoting best practices in the School Library programme. The award was instituted in the memory of Late Ms. Bandana Sen a pioneer Librarian in the field of Children's Libraries and reading programmes in India.
October, 2019
62nd Annual Day Celebrations
25th October 2019
The 62nd Annual Day was about the symphony of peaceful co-existence in a progressive environment through the power of enduring messages of Great Men and thinkers.Mr Gurcharan Das-author,commentator and public Intellectual, our honourable Chief Guest was appreciative of the school's efforts to showcase a powerful theme through the medium of performing arts. In his inspiring talk he reiterated on the mantra of believing in one's passions and celebrating the journey of learning through perseverent efforts!




September, 2019
Capacity Building ICT Workshop by CBSE and Microsoft @ BBS
16th-21st Sept,2019
Thống kê xổ số Wing LungCBSE in association with Microsoft Corporation (India) Pvt. Ltd. conducted Capacity Building workshop for teachers in 2 stimulating sessions(16th Sept-21st Sept) @ Bluebells, which aimed to introduce latest technologies for improving access to and use of Information and Communication Technology (ICT) tools that will help them to integrate technology
Thống kê xổ số Wing Lunginto teaching, use digital technologies safely, enhance the learning experiences and improve 21st centuryskills of all students..Teachers from different schools across India were part of this high tech professional development programme.
Thống kê xổ số Wing LungTeachers were provided real project-based learning environment to ensure that learners can gain indepthpractical knowledge and are equipped with the abilities to unlock the maximum potential of the Microsoft Office 365, that allows the learner to collaborate. It also included aspects of Artificial Intelligence, gamification through Minecraft, collaborative tools such as Teams, Flipgrid, OneNote.
Dr. Vinnie Jauhari' Director of Education Advocacy at Microsoft address was the highlight of the program whereby she motivated the Educators from all over India to spread awareness about the use of technological tools not only in urban areas but in rural too.
Chandrayaan1 , Mangalyaan, Cartosat, Chandrayaan 2 -
ISRO has made us proud....
6th Sept,2019
In anticipation of the successful landing of Chandrayaan 2 on 7/9/19 , an interactive session -Making and Launch of Chandrayaan 2 with Astrophotographer Mr Ajay Talwar was conducted in the school auditorium . Thanks goes out to Team National Geographic for organizing the show that left the young Bluebellians spellbound!
Class 1 Sports Day
21st September, 2019
Class 1 Sports Day was held on the morning of 21st September, 2019 was attended by an enthusiastic group of parents and students. The attendance of each class was more than 90%.
Thống kê xổ số Wing LungChildren enjoyed the Relay race & the Kangaroo hop.
Thống kê xổ số Wing LungEach child present got a chance to participate in the races.
Balance the ball race for parents was conducted. An exuberant group of parents participated with complete zeal and fervour.
Thống kê xổ số Wing LungThe Sport's Day was headed by the junior school supervisor Ms. Kiran Jamwal who also gave away the prizes (chocolates) to all the participants, hence every child is a winner and the spirit lay in active participation.
Congratulations!
1st Sept,2019
Rohan Chopra class XII C, Sakshi Sharma class XI C and Lavanya Kapoor of X A were the first runner ups at the Jaipur Debate at Neerja Modi School, Jaipur held on 30- 31 August, 2019.
August, 2019
Congratulations !
23rd August,2019
Thống kê xổ số Wing LungRohan Chopra class XII C and Lavanya Kapoor of class XA have won the Rajmata Gayatri Devi Memorial Trophy, edging out 26 other schools in the Verbattle debate competition, hosted by the Maharaja Sawai Mansingh Vidhyalaya, Jaipur.
16th August, 2019
Rohan Chopra class XII C, Sakshi Sharma class XI C and Eesha Paintal class XI C were the winning team at the DPS R.K. Puram Dhruv Rajgharia Memorial debate competition held on 16 August, 2019.
FUNMATICS - VIEWPOINTS IN MATHEMATICS
MATH WORKSHOP FOR PARENTS (III-V)
17th August,2019
Thống kê xổ số Wing LungAn engaging workshop was organised to help parents see Mathematics not just from academic lens ,but also view its wonders beyond the classroom.Parents actively participated in activities like color theorem and Fibonacci sequence .
Chaupal-Class I
17th August,2019
Chaupal on "Childrens' Voices for class I parents held in school on the 17.8.2019,Saturday.The speaker for the session was Dr. Sameer Malhotra, Clinical Psychologist and Director Max Hospital.
Bluebells in Japan
6th -8th August, 2019
Thống kê xổ số Wing LungGranth Bagadia of class XA and Sarthak Banerjee of class XII A under the guidance of Ms Mitali Debnath Roy, presented their project on SMART OFFICE, in the Super Science High School Students Fair (SSH) 2019 at Kobe Japan from 6th to 8th of August. The Fair is organised by Ministry of Education and Japan Science and Technology Agency (JST).
Sports Meet for Grade II
3rd August
Thống kê xổ số Wing LungSports Meet for grade II was held on Saturday, the 3 of august 2019.
The children & the parents attended the event with a lot of enthusiasm.
The races for the students were organised by the sports teachers. We had races like
Thống kê xổ số Wing Lung1. Relay race
2. Hurdle race
Thống kê xổ số Wing Lung3. Ball relay
Thống kê xổ số Wing LungThere was a Lemon and spoon race for the parents and teachers too.
There was excitement and ardour on the sports field.
July, 2019
Bluebells@Japanese School, New Delhi
30th July,2019
Thống kê xổ số Wing Lung160 Bluebellians along with their teachers, from grades 1-12 ,visited the NEW DELHI JAPANESE SCHOOL on 30th July ,2019 for the YOKOSO JAPAN DAY.
They were exposed to various forms of Japanese dance, origami, Wadaiko , Japanese traditional and modern sports and games ,yukata wearing, calligraphy etc .The students had an amazing and enriching experience and the opportunity to make new friends.Cheers to global frienship!

Transformative Learning Through Cultural Exchange
@PULWAMA, KASHMIR
Thống kê xổ số Wing Lung1 teacher and 5 students from Dolphin International School Pulwama , Kashmir , visited Bluebells from 12-20th july 2019 . The visitors were hosted by our teacher and students and particpiated in a gamut of activites at school-madhubhani art, folk dances, folk songs,heritage walks and visits and were a part of an enlightening session by WISCOMP on identities, peace and tolerance .
@SABEL, MUNICH


9 students along with teacher escort Ms Ruchika Mehra visited our longtime partner - the Sabel School, Munich from 27th may - 8th june 2019 . The trip involved completing the project started at Bluebells on art and architecture of both the countries . The highlight of the trip was our students meeting the Indian Consul General .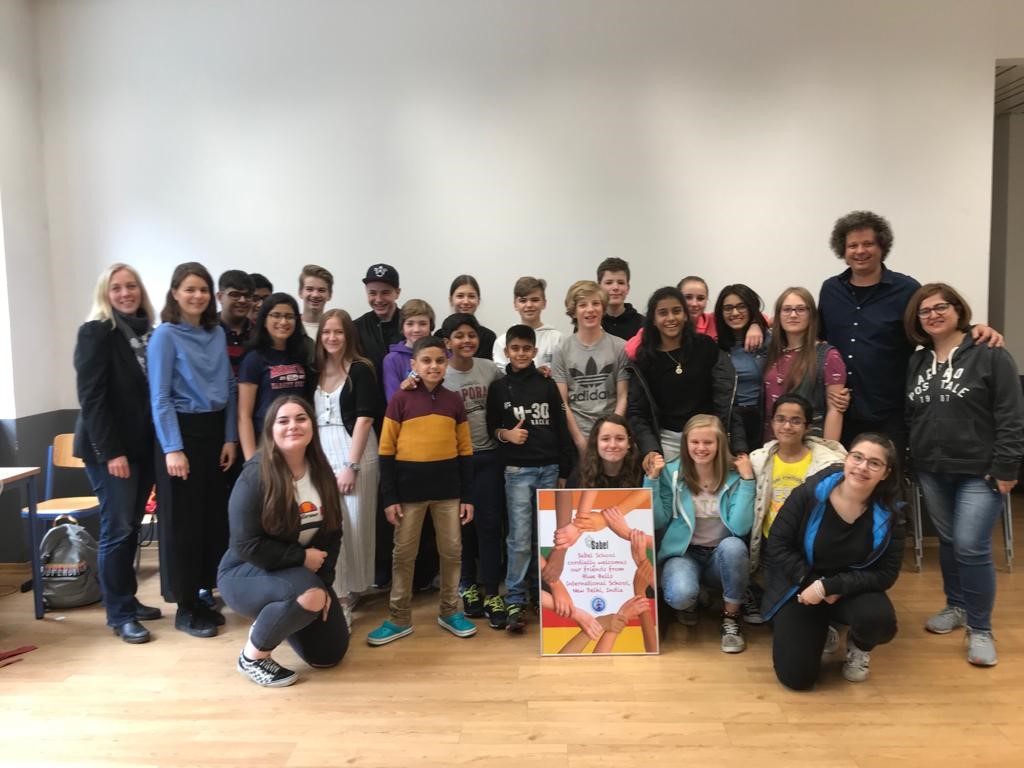 @RITSUMEIKIN,KOBE-JAPAN


Thống kê xổ số Wing Lung17 students with 2 teachers visited Japan from 29th may to 8th june as a part of our annual exchange programme with KEIMEI GAKUIN, Kobe AND RITSUMEIKAN HIGH SCHOOL Kyoto. There were thrills and frills leading to an amazing experience with homestays, sightseeing , experiencing Japanese culture,disciplined lifestyle and interactions with hardworking society members. The students also visited the Indian Consulate at Osaka .
@GSD SPAIN


5 students and 1 teacher from , Bluebells visited Spain to attend a summer camp - The Young World at GSD group of schools, Spain . The camp brought the students in close proximity with nature satisfying their wanderlust with daring activites such as-Kayaking, rafting,snorkelling, rappelling, caving, hot air ballooning-giving them lessons for life!
Chaupal-Class 3
27th July,2019
Thống kê xổ số Wing LungA "Chaupal" was held for Parents of Class 3 students on Saturday, 27th July 2019.Dr Poojashivam Jaitely addressed some of the growing concerns of Third graders providing some useful insights to parents to deal with them.
Book Week
23rd -26th July,2019
ENIAC-Virus-26.07.2019
Thống kê xổ số Wing LungENIAC Club hosted it's biggest endeavour ,VIRUS'19.It was the 18th installment of the annual computing mega fest hosted by Bluebells School International.
Mr. Mukul Ojha , Founder and Managing Director Bluearth Energy graced the occasion as a Chief guest and Ms. Swati Ganguly founder of Juana Technologies was the Guest of honour.The program comprised of 6 different innovative events which gave the participants an opportunity to showcase their creative skills. This year Modern School, barakhamba won the Rolling Trophy.
Bhaskara Day-25.07.2019
Thống kê xổ số Wing LungThe prestigious" BHASKARA INTERSCHOOL MATHEMATICS COMPETITION 2019" was organised on 25th July 2019 with an enthusiastic participation from Delhi and NCR schools .
The highlights were MATHEMATICAL QUIZ (IX-X) and MATHEMATICAL CREATIVE CORNER (VI - VIII). This year St Mary's won the Bhaskara Rolling Trophy with Bal Bharti, Pitampura coming close behind to bag the Runners Up trophy.
Lingua Fiesta-24.07.2019
English Day event 'Lingua Fiesta' organized by the Department of English, saw fourteen prestigious schools from Delhi NCR, vie for the coveted Rabindranath Tagore Rolling Trophy, as they critiqued D H Lawrence's novel –Sons and Lovers, the relevance and resonance of his writings in present times.Gyan Bharati Team lifted the Trophy, Vasant Valley School were the Runners Up.
Dr Hema Raghavan was the Keynote speaker and eminent academicians from Delhi Univ. were the judges for the event.
Pratibha Diwas-23.07.2019
On 23rd July, 2019 Bluebells school, Kailash had organised inter-school Kahani Manchan Pratiyogita to develop a harmonious and healthy environment among the schools in Delhi. This year Sardar Patel Vidyalaya won the Rolling Trophy.
Pre School Orientation@BBS
20th July,2019
The Pre School Orientation was held on the 20th of July 2019 in the school auditorium. Dr Venita Kaul, an eminent Early childhood educationist was the chief guest.She shared her views with parents on the importance of developing the socio-emotional skills and keeping in mind the 5C's in the beautiful journey of parenting. The importance of a collaboration between parents and teachers to bring up healthy, happy and independent children."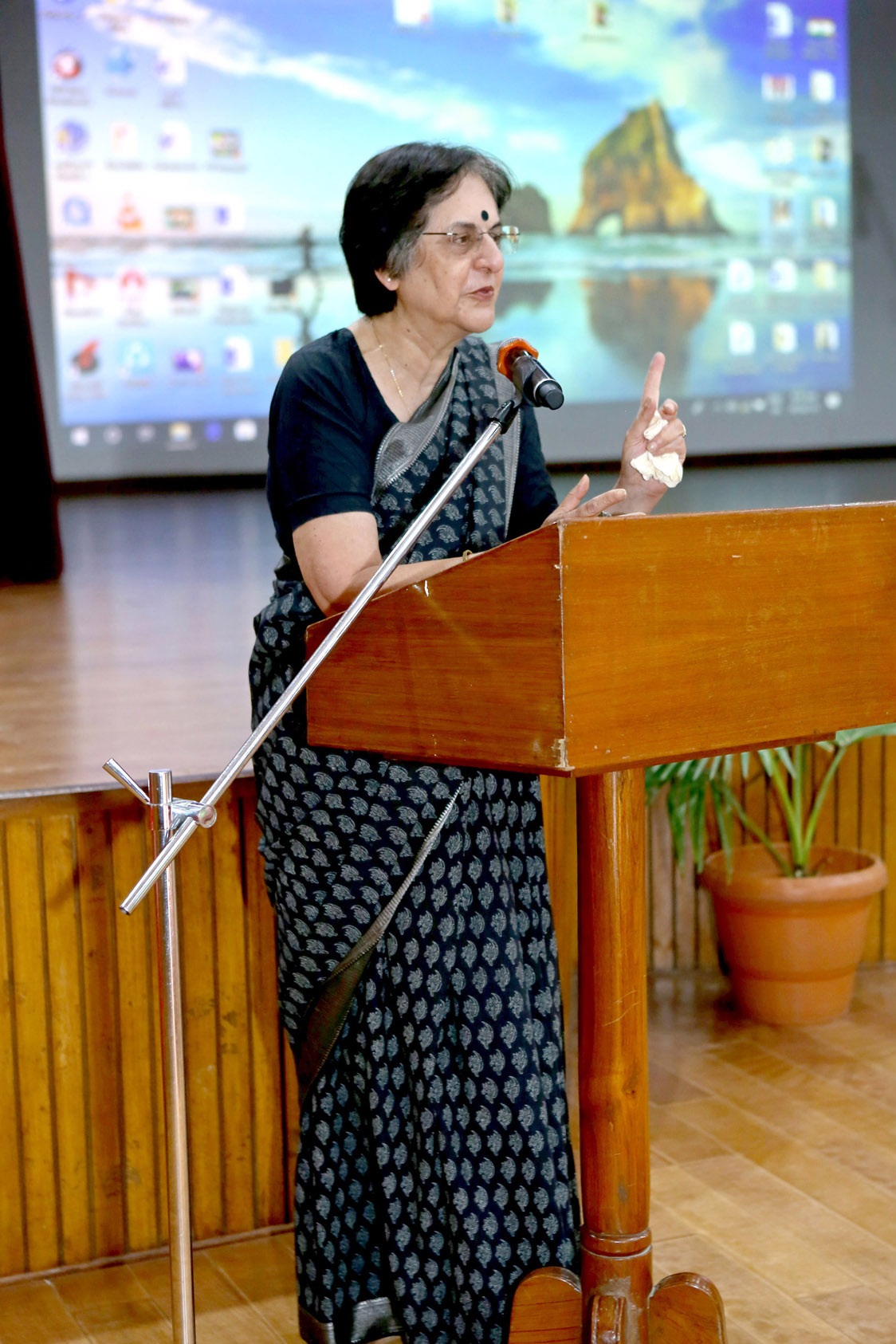 Bluebells celebrates Nelson Mandela's
Birth Anniversary
17th July,2019
Thống kê xổ số Wing LungBlubells school International on the 17th of July 2019, celebrated the birth Anniversary of Dr Nelson Mandela. The students put up a multi cultural extravaganza, where the life and struggle of Dr Mandela was brought to the stage. This year we also celebrated the 150th anniversary of another great Leader Mahatma Gandhi. Together the lives of these two great men has inspired many of us to work towards a world where people inspire greatness in each other. The event was attended by many dignitaries of the South Afrcian commission, and the Guest Speaker was Mr Suhas Borkar, who spoke at length about the sacrifces made by Dr Mandela and Gandhi.
Staff Development Programme
1st- 4th July, 2019

Thống kê xổ số Wing LungOn going professional development is the hall mark of Bluebells and keeping pace with students learning needs a very important aspect of pedagogy.
On the 1st and 2nd of July, Professor Marmar Mukhopadhyay, Chairma ETMA Council, Gurugram along with Mr Subhash, Associate Professor, CIE Delhi University, conducted a workshop for teachers.
Thống kê xổ số Wing LungUnder Professor Mukhopadhaya's training teachers sucessfully worked on understanding and preparing lessons based on the Flipped Blended Learning Design Module.
At the Ms Mohindra memorial Lecture on the 3rd of July Mr Anuraag Kundu, Member, Delhi Commission for Protection of Child Rights (DCPCR), Government of Delhi, addressed teachers on Child rights and Nation Building.
May, 2019
Extension Lecture-Class XII
14th May, 2019
Thống kê xổ số Wing LungHonourable Mr Justice Kurian Joseph, former Judge Supreme Court of India, Himachal Pradesh in a conversation with students of grade XII on the 14th of May. The topic for discussion was "Ethics and Nation Building".
Star Gazing@Bluebells
10th May, 2019
From the craters of Moon,to friendship of Binary Stars, observing moons of Jupiter to rings of Saturn- a Fun-Filled Stary Night @Bluebells Terrace
BSF Youth Fiesta
2-4th May, 2019
The Youth Fiesta is one of the most awaited of events that gives wings to the creativity of the Bluebellians.It was held from the 2nd to the 4th of May ,2019. The action behind the scenes, brainstorming for ideas to staybacks, the students took full ownership and responsibility of the show and a healthy air of camaraderie and sportsmanship prevailed . The audience got to see some breath-taking performances lending charm and chutzpah in dollops to the event.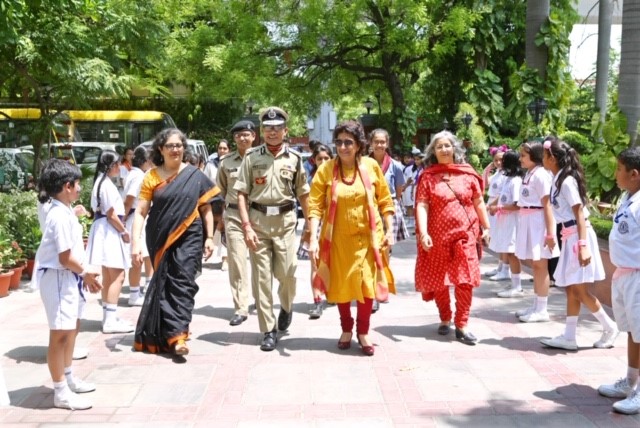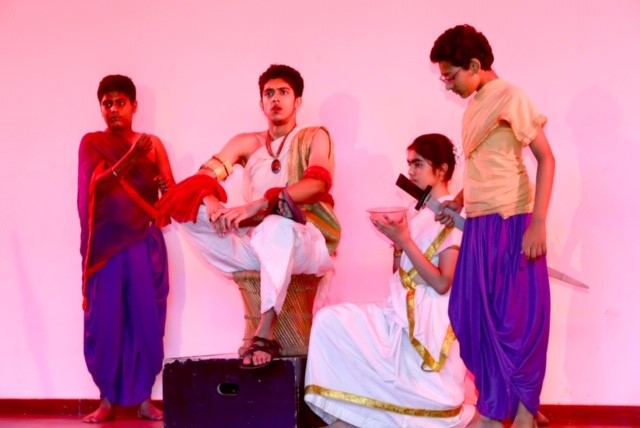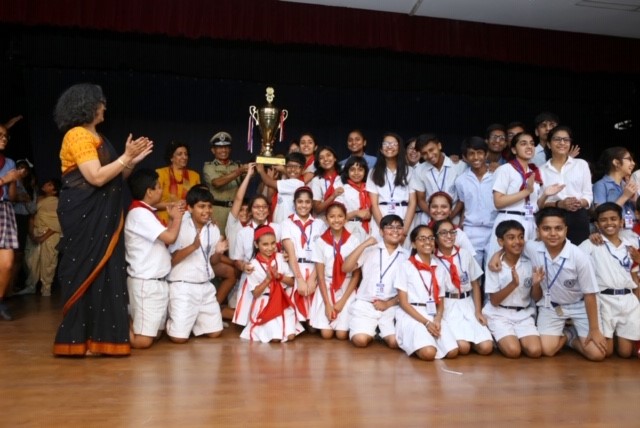 April, 2019
The 15th Africa Week@ Springdales,Pusa Road
26th April,2019
Our Students (Domingas Elonga - XII , Anika Sharma-XII and Aryan Kalra- XII) participated in The 15th Africa Week Inter School Multimedia Presentation Contest organised by Springdales School, Pusa Road on 26th April, 2019. The students won the First Prize.
Extension Lecture-Class XII
25th April,2019
Mr Alag Natrajan aka Mattkaman shared with students of class XII "Unconditional service to others".
Community Day@Bluebells
24th April,2019
Bluebells School International celebrated Community Day with the spirit of innovation and curiosity on 24th April 2019 at Atal Tinkering lab , with students from Saraswati Bal Mandir , Amar Colony. Children enjoyed learning through Snap Circuits,Lego kits, 3D printing and rocket building activities.

Pushkin Day@BBS
24th April,2019
The Bluebells Russian Literary Confluence 2019 was celebrated at Bluebells School International in collaboration with the Russian Embassy School, New Delhi on 24th April .
With stunning Russian dance performances by the Russian students and lively rendering of Pushkin's poems by the students of both the schools, followed by a quiz on Russian literature ,art,culture, history, geography etc,it was indeed an interactive, educational and enjoyable experience for the students.
BLUEBELLIANS VISIT EIB SCHOOL, PARIS
10th April - 23rd April, 2019
Thống kê xổ số Wing LungMs. Pooja Bose and Ms. Shweta Gulati escorted 13 Bluebellians to EIB School, Paris from the 10th of April to the 23rd of April,2019 for a Cultural exchange programme between the 2 schools whereby our children familiarized themselves with the French culture, education system, the rich cityscape of the 19th century,the art, fashion and gastronomy.The highlight of the stay was a workshop by filmmaker David Vital - Durand.and the creation of a short film on the topic "CULTURE SHOCK"by the Bluebellians.
Extension Lecture-Class XII
11th April,2019
Mr Madhavan K Palat an Indian historian, scholar of modern world, and political commentator discussed with students of class XII the 'Foot Prints of Genocide"
Guneet Monga Kudos ! @Bluebells(2000-01)
We are proud of you…… Congratulations on your roaring success at Oscars,2018-19 for your Documentary 'Period. End of Sentence'
QUINTESSENTIAL SHAKESPEARE
15th April,2019
On the 15th of April Class 12 presented -"Quintessential Shakespeare", a special assembly celebrating the timelessness of William Shakespeare's works as a playwright, poet, actor and writer. Vignettes from his famous plays -Hamlet, Mcbeth, Julius Caesar, King Lear were the highlights of the show providing an awe-inspiring experience for the spectators.
MICROSOFT EDUCATIONAL EXCHANGE @PARIS
Thống kê xổ số Wing LungE² | Education Exchange is an exciting annual event that hosts more than 300 of the most outstanding educators across the globe from the Microsoft Innovative Educator network. This year the event was held in Paris and one of our teachers Ms Bhavi Ahuja was selected as Microsoft Innovative Educator for innovation in using technology in Education.
February, 2019
28th February,2019
Bluebells celebrating the Spirit of technovation at Atal Tinkering Lab@BBS with Dr. Unnat Pandit(NITI Aayog) and Karamveer chakra awardee young innovator Mr. Yashraj Bhardwaj.
Visit to Astroport,Sariska-Class 8
10.2.2019-11.02.2019
Thống kê xổ số Wing LungThe eighth graders got an opportunuity to travel to and explore Astroport in Sariska.The visit was power packed with team building activities, night sky observation, trekking ,Jungle Safari -where the students spotted the Big Cat Family ,various animals and exotic species of birds. The Cultural extravaganza provided some fun-filled moments as the children witnessed a show of theatrical skills.
The experiential learning added a new dimension to the entire experience by giving the young learners new ideas for their Astronomy project .
Streams and Making Choices- Class X
9th February,2019
Dr Kanika K Ahuja, Assistant Professor, Department of Psychology, Lady Shri Ram College, addressed students and parents of class X on " Streams and Making Choices" for their Senior Secondary Education.
Children's Voices-Chaupal-Class 7
9th February,2019
The school organised an interactive Chaupal session for parents of grade VII, presided by Dr Sameer Malhotra, on 9th February, 2019. While discussing children's voices, Dr Malhotra addressed several pertinent issues afflicting parents , also employing them with possible resolutions to their grievances during the open discussion that followed.
AN AMALGAMATION OF CULTURES....INDIA DAY
6th Feb, 2019
Thống kê xổ số Wing LungAs a part of our annual cultural exchange with the New Delhi Japanese School (NDJS) that has been going strong for the last 28 years Bluebells played host to 144 students,15 teachers and parents along with the principal of NDJS to celebrate India day with gusto.There was an impressive display of Indo-Japanese fusion in the form of Wadaiko or Japanese drums ,traditional Indian and Japanese dances,Ohayashi performance and Japanese songs rendered by the Japanese students from grades 4 to 9.The Mathematical brain teasers, Jataka tales,artistic mirror work,Bhangra ,kho kho and kabbadi added to the learning with fun element.The day ended with students of both the schools playing Holi together with a smattering of beautiful marigold flower petals sealing the spirit of love and camaraderie between the 2 schools.
Valedictory Ceremony
2nd Feb, 2019
Thống kê xổ số Wing LungOn 2nd of Feb, Bluebells School International celebrated Valedictory Ceremony to bid farewell to out-going batch of 98 students of class XII. May they be the ambassadors of Peace and Brotherhood. We wish them well for all their worthwhile future endeavors.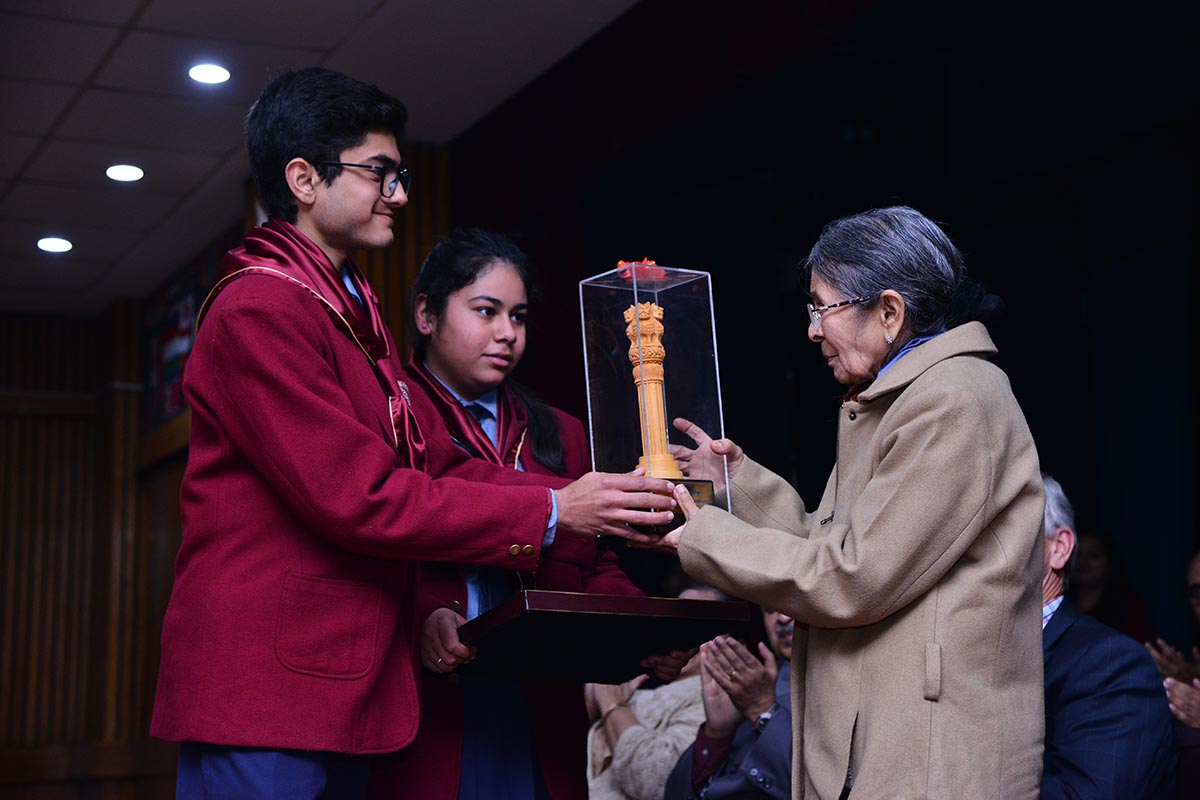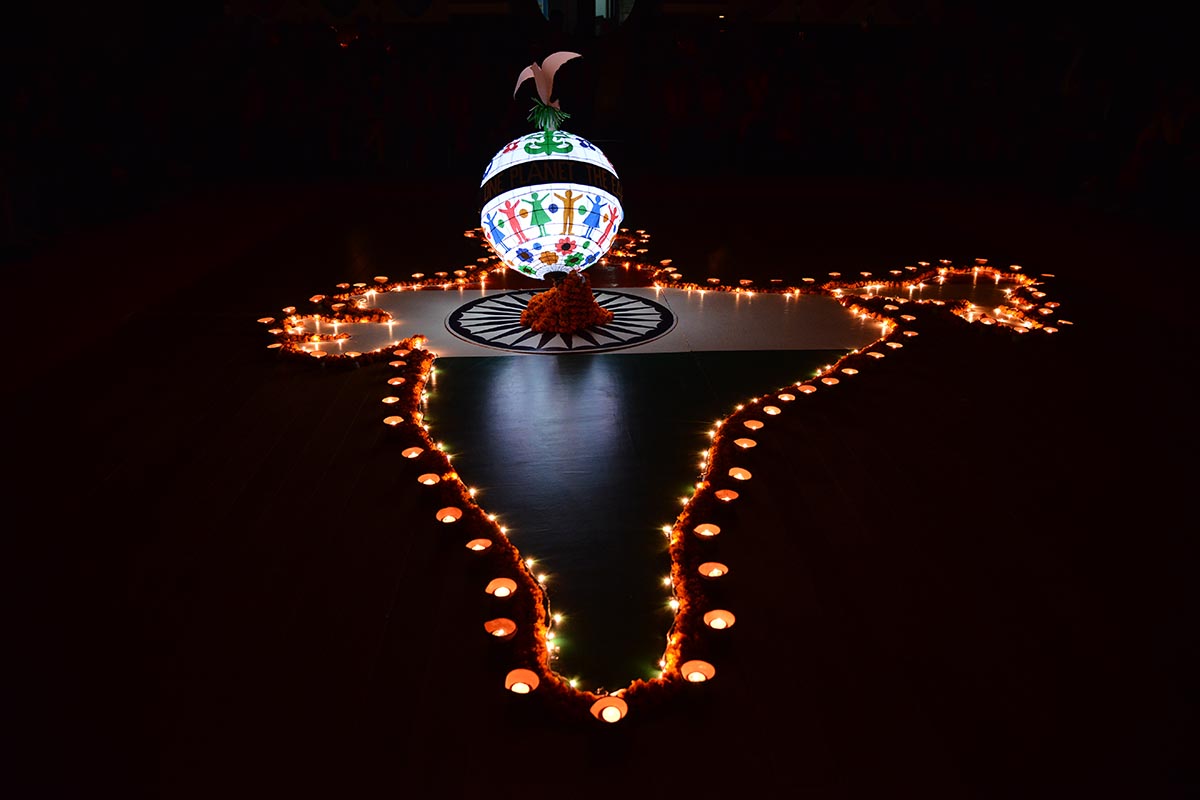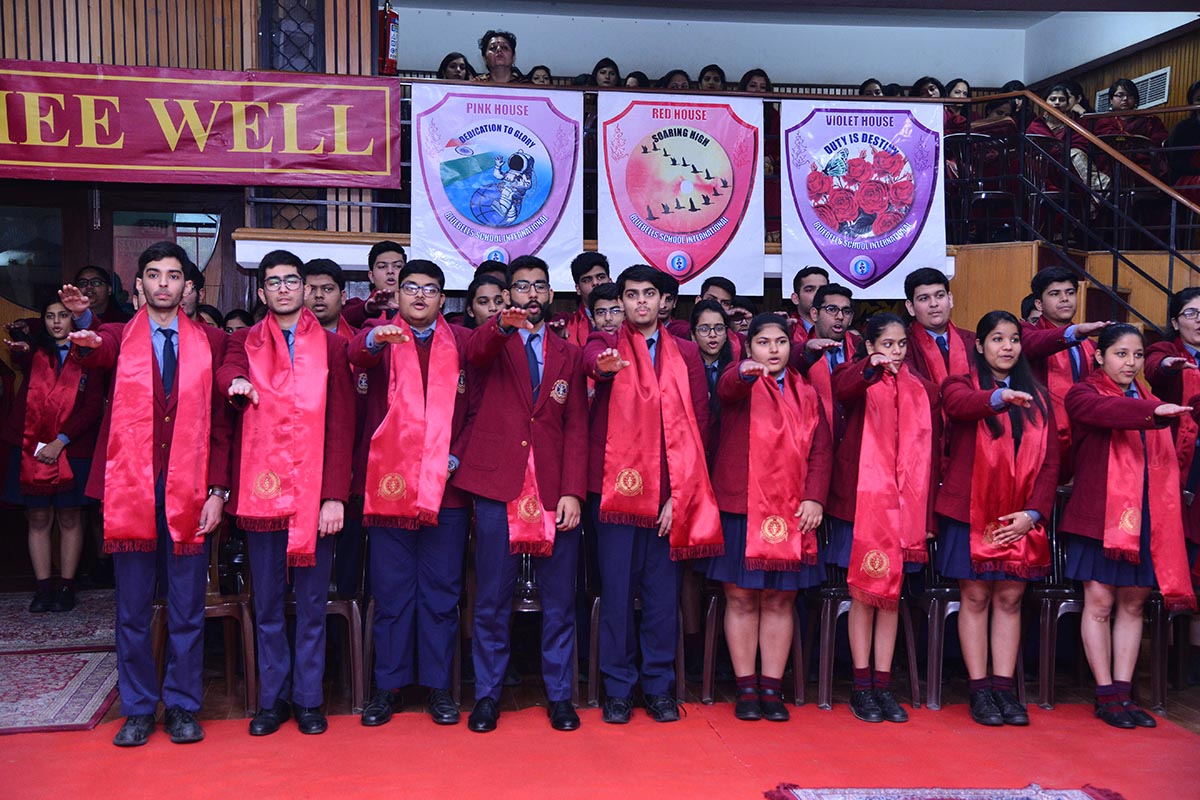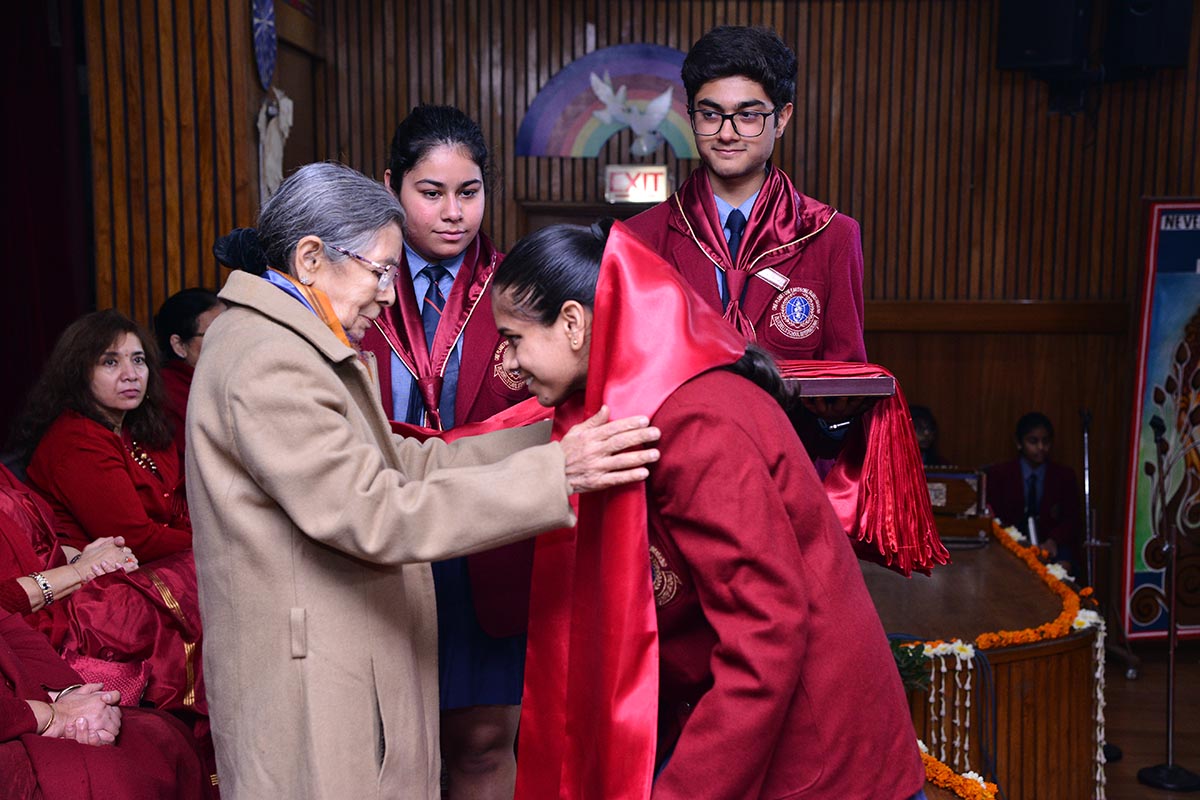 We are delighted to reinforce our commitment to environmental preservation through newly installed solar panels that harness the sun's energy for our needs, in the school campus. Our clean green environment initiatives take a leap forward as technology traps nature's resource to secure our future.
Mr. & Miss. Bluebells
25th Jan, 2019
It was a powerful amalgamation of beauty and brains at the Mr. and Ms. Bluebells held in the school auditorium on Friday, the 25th of January, 2019. 22 candidates vied for the coveted titles going through the general awareness, talent and extempore rounds confidently and gracefully exuding the Bluebellian charisma.
Thống kê xổ số Wing LungSavita Tripathi of XII- C, Aakash Chaudhary of XII-A bagged the titles of Ms. And Mr. Bluebells and Saanjh Shekhar of XII-C and Vedanta Bhattacharya of XII-A won the Ms. And Mr. Talent.
Gymnasium Sudderelbe Hamburg visits Bluebells-
Cementing strong cultural ties
15th-28th January,2019
The Gymnasium Sudderelbe Hamburg, Germany visited Bluebells school international from 15 to 28 Jan 2019 as part of our 8 year partnership as a friendship school since 2011 . The delegation consisting of 8 students and 3 teachers enjoyed homestay with the host students and teachers.There was a fine amalgamation of various cultural and sports activities at school along with regular classes. The students of the two countries are working on a project on the topic- "Women Empowerment" in India and are currently visiting Agra andJaipur.

On the 21st of January the host and guest students enjoyed bonhomie at the cultural evening with the parents, teachers and host students . Ms Kavita Chabbra, project manager Pasch Geothe Institute, New Delhi also graced the fun -filled evening as the special guest .
Chaupal-Class 3
19th January,2019
Chaupal on " Children's Voices" for class 3 parents was held in school on 19th January, 2019 , Saturday, from 8:00- 9:30 am. The speaker for the session was Dr Pooja Shivam Jaitley, Clinical Psychologist.
December, 2018
Chaupal-Class VI
29th December,2018
Thống kê xổ số Wing LungChaupal for grade 6 was organized on Saturday, the 29th of December,2018 . Dr Sameer Malhotra, Clinical Psychologist and Director at Max hospital addressed the gathering on the behavioural issues specific to the sixth graders and reiterated that listening patiently to the chidren's voices would help adults see things from their perspective to help them channelize their strengths towards their better future.
Bluebells welcomes the Japanese Delegation
28th December,2018
Bluebells School welcomes the delegation from Keimei school,Kobe_Japan to a collaborative cultural exchange to develop institutional linkages for the enrichment of youth.
Workshop on Fire Safety Measures at BBS
15th December,2018
Thống kê xổ số Wing LungMr. Ankit from Super Fire Safety Organization trains Bluebells Staff on using a Fire extinguisher as part of the workshop on School Safety.
Japanese GUNDOKU 2018 at Bluebells
14th December,2018
Bluebells school international hosted the 2nd edition of the Japanese Gundoku 2018 competition organised by the Japan foundation - JALSTA and supported by the Japan Airlines on the 14th of Dec 2018. 11 schools from Delhi NCR and 1 school from Nagpur participated in the competitive event. Mr Kobayashi, first secretary Embassy of Japan was the Chief guest for the day . He applauded the efforts of the host school and congratulated the participants for their witty display.
Write a Master Piece
13th December,2018
Thống kê xổ số Wing LungA workshop for Class V students conducted on December 13th 2018 by Zurich based children's Book Author Mr. Brijesh Luthra
Congratulations!
2nd-5th December,2018
Bluebells International participated in the 8th International Young Mathematicians'Convention(IYMC), 2018,an international Mathematics Contest that seeks to give mathematical expression to the inner creative urges of the youth. Our team brought laurels galore by winning 2 silver medals and 2 bronze medals in Maths Wiz and second runners up in Mathmania.
Bluebells-Sabel Cultural Ties
25th Nov-7th Dec,2018
Bluebells School International hosted it's long time exchange partner the Sabel School ,Munich- Germany from 25 Nov-7 Dec 2018 welcoming a delegation of 14 students and 2 teachers.The agenda included collaborating on meaningful projects like solar energy and social media films funded by lifestyles Culture Bosch. The students also worked together on a digital art project on the architecture of both the countries that will culminate next year when Bluebellians visit Sabel School, Munich for a reciprocal exchange .Our friends also learnt about Indian Folk art, craft, sports and dance. Participation was evident with full enthusiasm in the International sports meet held in the School grounds on 1st Dec 2018 in collaboration with Undokai dreams association.The farewell was a special event where the students presented their project before the audience.Mr. Procolino Antacido, Principal- German school, New Delhi was the honoured guest for the evening.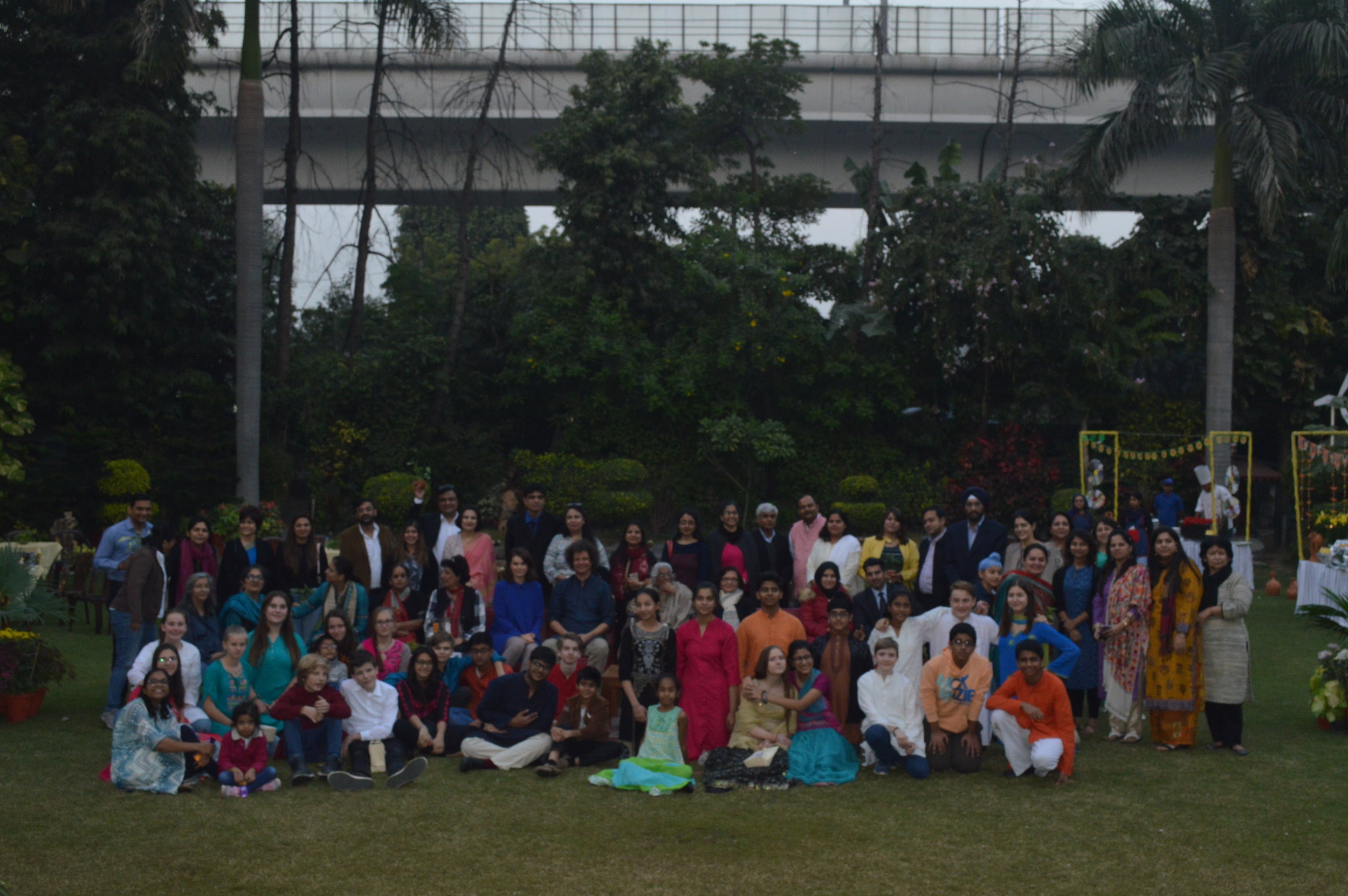 International Friendship Sports Meet,2018
1st December,2018
Bluebells School International celebrated International Friendship Sports meet on 01-12-18, where participants from Russian Embassy School, New Delhi, Iraqi Embassy School, New Delhi, Sabel School Munich, Germany and Bluebells School International, New Delhi participated in the Recreational sports activities organized to foster the spirit of love and friendship and encourage healthy competitive sports globally.Spirit of camaraderie and sportsmanship was for all to see in a large measure amongst the 14 and under-17year olds. . The highlight of the event besides the interesting marathon was the informal march past by all the participants carrying a message " one planet the earth, One family mankind"...... under the National Flags of their respective countries. ".
Chaupal-Class VIII
1st December,2018
Chaupal on "Childrens' Voices for class 8 parents held in school on the 1.12.2018,Saturday from 8-9.30am.The speaker for the session was Dr. Pooja Shivam Jaitley, Clinical Psychologist . Adolescent issues based on survey findings voicing the opinions of the 8th graders was the highlight.
Workshop on Understanding Mensuration
Class VII
1st December,2018
A workshop on Understanding Mensuration was organised for class VII on 1.12.2018. A team from NIIT nguru was invited to conduct an interactive session with the students.The students were exposed to various mathematical software tools and lab manipulatives which helped them gain a HANDS ON experience!
November, 2018
Congratulations!
24th-27th November,2018

CMS Luchnow held Quanta, an International Science event where around 70 National and International teams participated. Tavleen Nagi and Kartikeya Sharma bagged third prize in Maths Quiz and Archishi Pathania also was adjudged third in Debate.
New Friends from Sabel School,Munich!
27th November,2018
Bluebells welcomes the delegation from the Sabel School, Munich who Will be visiting us from 27th to the 7th of Dec!!!!
Opening up to a beautiful world of German art and culture blended with its Indian counterpart!!

Thống kê xổ số Wing Lung27th November,2018
Thống kê xổ số Wing LungMr Melvyn Roffe, Principal of George Watson College, Edinburgh, visited Bluebells on the 27th of November. He spent time interacting with students and visiting the curricular and co curricular facilites at school. Later over a cup of tea the two principals explored the possiblities of collabarating on exchange programs and projects involving students of both schools.
Friends from Olinca School,Mexico!
15th-26th November,2018
Thống kê xổ số Wing LungBLUEBELLS SCHOOL INTERNATIONAL proudly hosted its oldest exchange partner for more than 25 years , The OLINCA SCHOOL MEXICO from 15th - 26th Nov, 2018 .15 students and 2 teachers from OLINCA , including their Director Ms Maritere visited Bluebells for an exchange and enjoyed the warm hospitality of the indian host families.The Mexican Ambassador to India,
H.E. MS MELBA PRIA graciously consented to meet the delegates along with the Cuban Ambassador Mr Oscar Martinez and other dignitaries at Bluebells . The visiting delegation enjoyed the experience of indian sports, culture and arts along with dance and music.The students of both the schools have become friends for life and Bluebellians are eager to visit Mexico for a reciprocal exchange next year .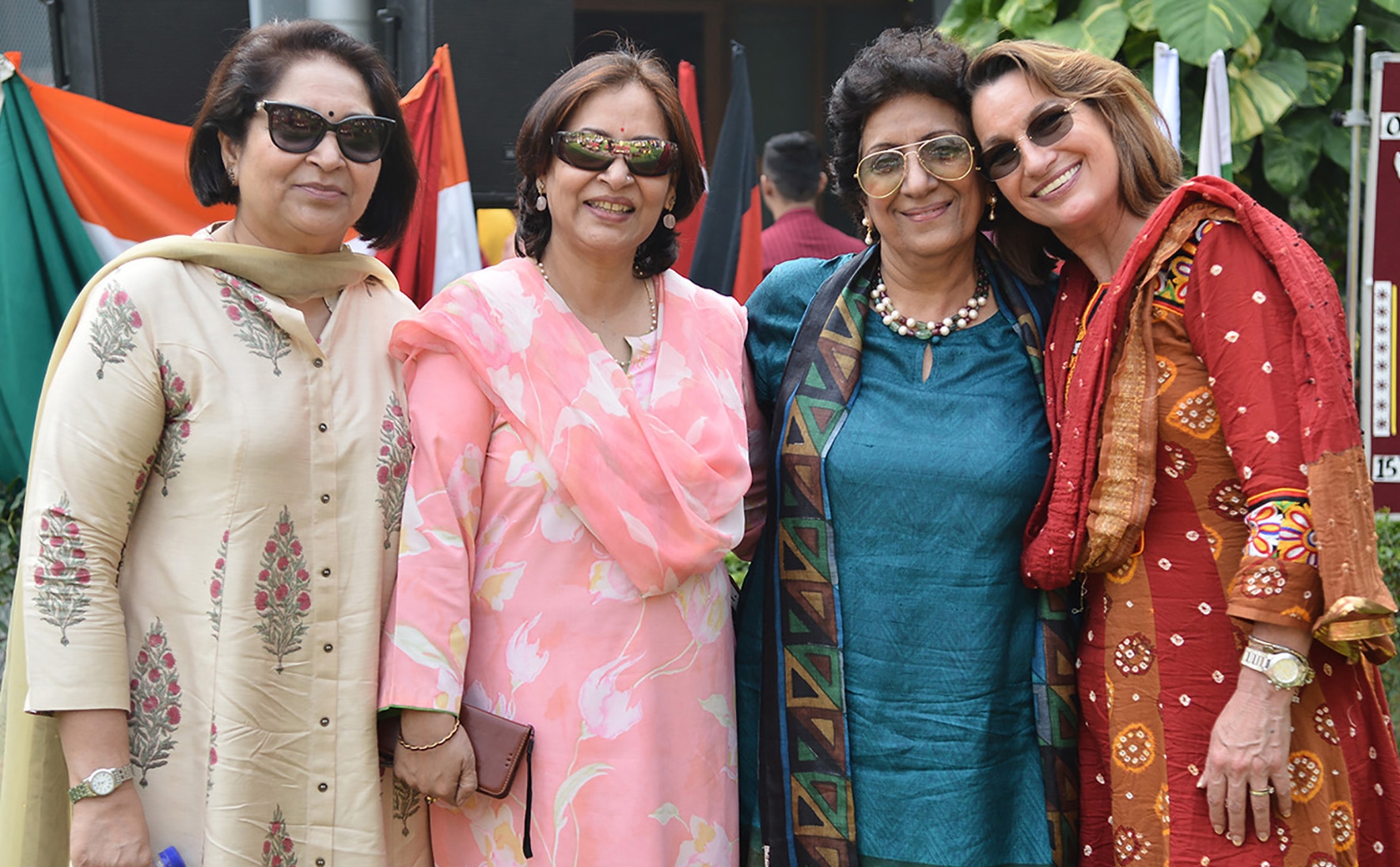 Congratulations!
24th-25th November, 2018
Bluebells School's MUN Club won Runners UP, School Delegation, CRUX Model United Nations @ Apeejay School .

17th November,2018
Thống kê xổ số Wing LungHarshvardhan Pandey XIIA and Gaurav Nagar XIA won the First prize in Model Making competition Effervescence held at St. Columba's School. The theme of the competition was Innovative Solution to Plastic Disposal. Our team

Dia Gupta(6-A) and Shreyas Moitra(7-C) participated in "Inverse Rhapsody",an Inter -School Competition held at DPS R.K Puram on the 17th Nov,2018 and bagged the First position in the same.
Chaupal-Class 10
17th November,2018
Chaupal on "Children's voices" for class 10 parents held in school on 17th Nov'18, Saturday, from 8.00 - 9.30 am.The speaker for the session was Dr. Pooja Shivam Jaitley, Clinical Psychologist.
TEDxYouth@BBS
November 3
On the 3rd of November, students of Bluebells organised TEDxYouth@BBS, at school. The theme for the event 'Power of One - Be the Change' attracted speakers from diverse walks of life to share ideas worth spreading. Attendees listened with rapt attention to speakers share how desire to touch lives beyond their own pushed them to explore what was just an idea. From helping the farmers of Vidharba, to having an alternative school with students from the age of 7 to 70, to using theatre to spread social messages and expressive arts as a medium of expression for vulnerable juveniles and using technology to assist the differently abled were all diverse ideas but with the single goal of 'making a difference to humanity'.
October, 2018
QUEST Model United Nations
October 25-27
QUEST-MUN OPENING CEREMONY
25th OCTOBER,2018
Chief Guest – Mr. Derk Segaar, Director, UNIC
Guest of Honour - Dr. Miki Horrie
Principal,Ritsumeikan Primary School, Japan
New Friends from EIB Paris!
14th-26th October,2016

Bluebells School International has a new exchange partner - The Ecole International Bilingue, Paris, France.
Our exchange started with their first visit to Bluebells from 14th-26th Oct 2018. 17 students and 2 teachers of EIB enjoyed home stays with the Indian families and various Indian cultural, sports, art and other activities at school. They made many friends across all classes and visited not only Delhi monuments for heritage walks, but also visited Jaipur and Agra as a part of their trip.
The highlight was the Hindi song and Indian dance prepared by the Indian and French students together over their stay which they performed together at the end of the stay.
Students of Bluebells will visit EIB Paris for a reciprocal trip from 10th-24th April 2019. We hope to do an art and history project together during that trip.